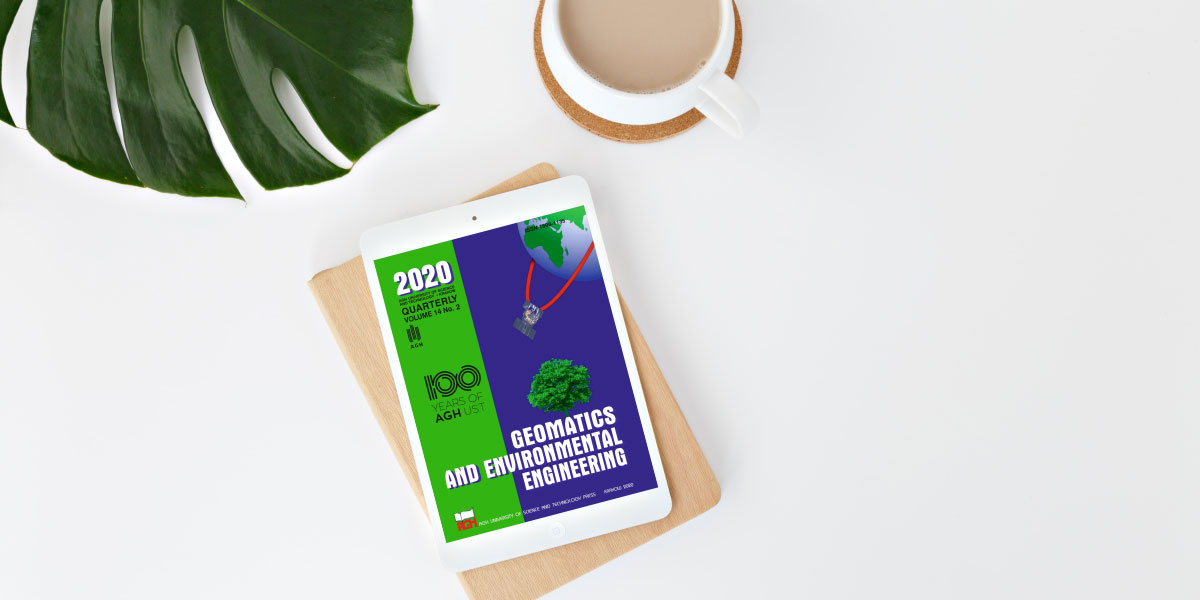 About Journal
Geomatics and Environmental Engineering (ISSN Online: 2300-7095; ISSN Print: 1898-1135) is an interdisciplinary, international, peer-reviewed and open access journal. It provides an advanced forum for research related to the measurement and visualisation of human surrounding spatial phenomena and spatial objects, including geodesy and cartography in its broadest sense, as well as development and environmental protection problems using engineering and technical methods. It is published since 2007 year quarterly by the AGH University of Science and Technology Press (Kraków, Poland).
Journal is indexed in Scopus from 2019. The CiteScoreTracker was calculated at 0.8 in September 2021 (57 citations / 75 documents). Other databases in which the journal is indexed are BazTech, BazEkon, Crossref, Dimensions, EBSCO, Google Scholar, Index Copernicus, ResearchGate and Scilit.

Rejection Rate in 2020: 23%
The electronic version of the journal is the primary one.
Publication in the journal is free of charge.
Articles are published in English only.
All manuscripts sent for publication are checked to compare their similarity with other works already published. For this purpose we use iThenticate.
Articles are distributed according to the terms of the Creative Commons CC-BY 4.0 License.
Important for authors affiliated with Polish institutions:
According to the announcement by the Minister of Education and Science dated 18th February 2021 journal Geomatics and Environmental Engineering received 40 points. Assigned scientific disciplines: civil engineering and transport; environmental engineering, mining and energy; socio-economic geography and spatial management; earth and related environmental sciences.